It's the last weekend before the start of a new school term, but that's no reason to mope. Instead, go out, have fun and round up the holidays with a bang! We've put together a list of exciting stuff going on that will ensure you have a colourful, fun-filled time.
25 June, 7 pm to 10 pm
Break out those dancing shoes and funky outfits for this retro-themed party! Apart from hip-swaying hot tunes from the 60s to the 80s, there will also be a special edition of the light and sound show at the Supertree Grove, a stunning pyrotechnic display launched from the OCBC Skywalk for the first time, mass dances and best-dressed contests to look forward to. More info.
---
Story continues below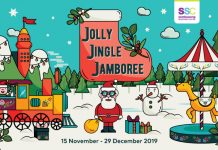 READ: Win Sesame Street Goodies in Our Latest Giveaway This yuletide season, Sembawang Shopping Centre is celebrating the festive spirit with a Jolly Jingle Jamboree...
The Boys' Brigade Share-a-Gift 2019 project started off on Saturday, 7 December, with 350 volunteers heading out to deliver food hampers to beneficiaries around...
---
26 June, 10:30 am to 12:30 pm
Playeum, Children's Centre for Creativity
Have fun and see how you can create interesting sounds by moving your body or using natural objects in this parent-child workshop. A great opportunity for kids and parents to tinker, experiment and have fun together.
Till 31 July, 10 am to 6 pm
National Museum of Singapore
Rediscover and celebrate the joys of childhood this Children's Season at the National Museum, which has created a colourful world of interactive installations, activities and workshops for the whole family. Details.
25 June, 5:30 pm to 10:30 pm
Empress Lawn
Get set for an evening of great food and music at this concert-and-carnival held in the Civic District. Bouncy castles, ballon sculptures, games, Disney singalongs, a picnic by the Singapore River – it's a rocking way to end off the holidays. Learn more.
25 June, 2 pm to 7 pm
Gillman Barracks
It's a day of fun-filled art activities for little ones! From a specially commissioned interactive play to a hands-on craft workshop, games and bouncy castles, there's lots in store. Adults aren't forgotten either, with new art exhibits, a BBQ, live music and cold beers to look forward to. Find out more.
25 to 26 June, 12 pm to 5 pm
Nyee Phoe
Take a little trip out of the city centre and enjoy some fresh country air at this quarterly market. On top of fresh local produce, there's also a great range of artisanal foods on offer, plus a countryside party that kicks off in the evening.
Till 26 June
Jurong Bird Park
Celebrate this local institution's 45th anniversary with a visit this weekend. There are lots of activities lined up for families, from game stalls and craft activities to feeding sessions, guided tours and more.
Till 30 June, 11 am to 7 pm
One KM Mall
Here's a rare chance to ice-skate right up to prehistoric mammals like the woolly mammoth. Watch these life-sized puppets move and hear them roar! There's also an adventure trail after the skating session so kids can learn more about these creatures. Details.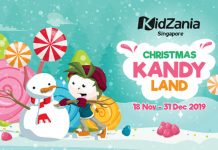 Reward your kids with the ultimate sweet treat and bring them to KidZania Singapore as it transforms into Christmas Kandy Land from 18 November...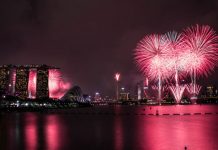 Have you got your New Year's Eve and New Year's Day 2020 plans all sorted? Another year (and decade) is soon gone, and we...
FEATURED LISTINGS