Yes! You read it right!
Steinway Gallery Singapore is giving you a chance to win a brand new upright piano! Simply fill in your particulars and submit the form below!
Entry closes on Sunday, 3 July.
Alternatively, you can email the following details to info@steinway-gallery.com.sg
Full Name:
Contact Number:
Do you play the piano? Yes / No
Promo code: LDO
Email Subject: WIN AN ESSEX 123S NOW! (LDO)
6 Unique Features of the Essex 123S upright piano
Steinway makes it easy!
5 benefits of owning the Essex 123S upright piano
Examination model
All Wood (No Plastic) = Durability
Better Responsiveness & Control
Longevity
Steinway Promise l 100% trade in value when you upgrade to a Steinway
Purchasing a new piano?
Click here for tips on selecting a good piano.
Schools and Institutes of Higher Learning will implement full home-based learning from Wednesday, 8 April 2020, onwards. In addition, preschools and student care centres...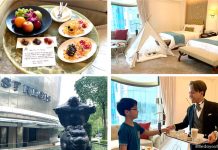 Right from the moment we arrived at The St. Regis Singapore, we were transported to a realm of old-world charm and graceful elegance. Beautiful...
FEATURED LISTINGS