Skipping effortlessly, performers twirl gracefully inside the swirling jump rope, with each revolution, pulling off ever more dazzling feats to amaze the audience.
This is one of the highlights of Cirque Eloize iD, the high-energy production now on at Marina Bay Sands.
Urban and gritty, the show features 15 world-class performers fusing circus disciples with hip-hop and street dance to provide an entertaining visual feast to the audience. Traditional circus skills like juggling, contortion and the China Mast are given an urban twist and pair with driving electronic music, breakdance and even popping and locking.

---
Story continues below
Let it snow, let it snow, let it snow in Singapore 2019. Dreaming of a white Christmas in tropical Singapore? Well, you can have...
Parenting is a 24/7 job. You can't apply for leave. But for your sanity's sake, you're allowed to sneak out for a little break...
---
Recognizable props like bikes, skates and even pogo sticks are used creatively throughout the show, placing the show firmly in the present reality rather than in a fantasy world.

Cirque Eloize iD's set is ingenious too. The use of video projection mapping and clever trap doors create a changing cityscape for the performers to tumble, spin and vault around.

In the big finale, performers take on a trampoline wall, defying gravity while spurring each other on to even more daring stunts.
This is the show's second time in Singapore, having last performed here in 2011.
Its founder and artistic director, Jeannot Painchaud says, "It is a great pleasure to return to Singapore with our urban tale, filled with color, passion and energy. In keeping with the company's tradition, with iD we've again combined different art forms – this time urban dance – to infuse their energy and edginess to the acrobatic performances. Now imagine two rival gangs, sharing a public place at the heart of a city, and seeking to express their iDentity and inDividuality, and you have iD."
Cirque Eloize iD is now on at MasterCard Theatres, Marina Bay Sands till 6 March 2016.
CIRQUE ELOIZE iD
Season: From 26 Feb – 6 March 2016
Venue: Sands Theatre, MasterCard Theatres at Marina Bay Sands
Cast: International Cast
PERFORMANCE TIMES:
Friday 7:30pm
Saturday: 2:00pm and 7:30pm
Sunday: 1:00pm and 6:00pm
TICKET PRICE:
From S$45
* Excludes the booking fee of SGD$4 per ticket
In celebration of Sesame Street's 50th anniversary, local souvenir retailer Goldwood Singapore just launched its line of Sesame Street themed products!From fun t-shirts in...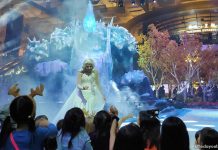 Enjoy a dazzling light show, experience snow in the tropics, meet your favourite Frozen characters – Anna, Elsa, Olaf, and embark on an obstacle...
FEATURED LISTINGS