We are all familiar with the age-old story of The Boy Who Cried Wolf.
This timeless tale is now coming to Jubilee Hall with I Theatre's first theatre production for 2016.
In a fast-paced, interactive and engaging story, revisit the story of Boy who has a really boring job – or so he thinks – watching sheep. Boy decides to come up with a way to stay awake. He pretends that the Wolf is close by and calls for help.
Combining fun, music and physical theatre, I Theatre's The Boy Who Cried Wolf uses clear storytelling to grab the attention of younger ones and broad comedy and interaction to entertain young audiences.The Boy Who Cried Wolf will be at Jubilee Hall, Raffles Hotel, Singapore from 15 February to 19 March 2016.
In conjunction with I Theatre's The Boy Who Cried Wolf, Little Day Out presents a pack of fun activity sheets that you can do with your child. Solve a puzzle, make your own wolf and more with this set of FREE activity sheets. Download them below.
Related Articles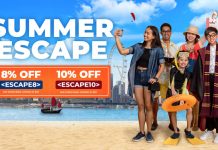 With the holidays quickly approaching, you may be ramping up the preparations for the family holiday. We've got some news for you. Now, there is a...
This year, the S.E.A. Aquarium Ocean Fest 2019 returns with the theme The Noisy Ocean. Explore ocean soundscapes through sound and activity stations and...
FEATURED LISTINGS