Only a few more weeks to go before this year comes to a close and school starts again. But there's still plenty of fun activities to do with the whole family, especially with Christmas just round the corner. Here are our picks for this weekend.
9 to 13 Dec
School of the Arts Drama Theatre
Adapted from the well-loved children's book by Rod Campbell, this stage adaptation brings you on a fantastic journey to Santa's workshop, where he and his Elf have to find the perfect present for a little girl named Sarah who has requested for 'something special' this Christmas. With lots of audience interactions and singa-alongs, this hit production from the UK promises to to be a festive treat for the entire family. Find out more.
Till 3 Jan 2016, 4 pm to midnight
Supertree Grove, The Meadow and The Flower Dome
Don't miss Singapore's largest yuletide fair, as it returns this year with more spectacular Italian Luminarie light sculptures and a new Christmas Toyland floral display. Other highlights include a bustling European-style festive market where you can shop for Christmas gifts and indulge in yummy treats, and a century-old travelling 'mirror tent' from the Netherlands.
10 Dec to 4 Jan 2016
Resorts World Theatre, Resorts World Sentosa
One of the world's favourite fairytale gets an original new take, as the familiar story gets told through the eyes of an inquisitive reporter. Featuring high-tech visual effects but retaining all the classic elements such as the glass slipper, the pumpkin coach and the grand ball, this fable with a contemporary twist promises to be an eye-popping spectacle.
Till 12 Dec
Night Safari Singapore
This Saturday's your last chance to catch this themed extravaganza that sees the Nigh Safari transformed into a mystical wild wonderland. From dazzling light-ray performances and fire-eating displays by Thumbuakar warriors to fun learning activities for the kids as they explore the park, it's a memorable way to discover more about nocturnal creatures.
Till 16 Dec, 10 am to 5 pm
Dempsey Hill
On the hunt for some unique gifts, or just looking to indulge in some festive treats and fun? Then head to Loewen Road at Dempsey Hill, where you can have your pick of artisanal and gourmet products from all around the world, while the kids enjoy activities like photo sessions with Santa.
Till 13 Dec, 10 am to 10 pm
Halls 401-405 Suntec Convention & Exhibition Centre
Whether you and your kids are booklovers, gadget junkies or just want to stock up on stationary and supplies before the new school year, you'll find all of these under one roof and at great bargain priceswhen you head to this year's BookFest, organised by Popular bookstore. There's even a new titbits carnival where you'll find all kinds of delicious treats.
Till 24 Dec, 6 pm to 11 pm
CHIJMES, The Lawn
Check out this Christmas flea market, where you can find handmade artisan gifts for loved ones and feast on sweet treats by local vendors. Kids can look forward to face-painting, caricature drawing, carolling and roaming musicians to entertain them.
Till 12 Dec
Drama Centre Theatre
Don't miss the last day to catch this light-hearted and cheeky production with a local twist. The Emperor is celebrating the 50th year of his reign with a National Dress Parade. But when his vanity causes him to neglect his people, two tailors decide to teach him a lesson. Featuring a brand-new score and lots of humour, this musical will have young and old alike in stitches.
12 Dec, 9 am to 3 pm
Kampung Kampus
Head down to Kampung Kampus, home of the Ground-Up Initiative, to experience the Kampung Spirit and discover the art of sustainable living. There are workshops on making table-top Christmas trees, healthy eating and growing your own food, as well as hands-on activities like making mini mud bricks and eco play dough. Pre-registration and fees are required for the workshops.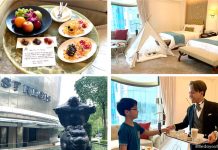 Right from the moment we arrived at The St. Regis Singapore, we were transported to a realm of old-world charm and graceful elegance. Beautiful...
Schools and Institutes of Higher Learning will implement full home-based learning from Wednesday, 8 April 2020, onwards. In addition, preschools and student care centres...
FEATURED LISTINGS