We take a look at some of the best activities in Singapore for your child who is interested in all things wheels and transportation related.
It befuddles us – why the obsession with anything with wheels?
But kids are kids, and they go ga-ga over vehicles that zoom, gadgets that rotate, and all kinds of rides. Buses, trains, bikes… we've tried them all.
And since Formula 1 season is around the bend, here are some rides that wheel-crazy tykes are bound to enjoy.
Choo-Choo Trains
Choo, choo! This train doesn't move on tracks, and that's the beauty of it. The Choo Choo City Express mini-train ride is designed to look like a 19th century railway train – we love kid-sized stuff – and is driven by an operator.

City Square Mall
's train circles the eco-mall's green strip and outdoor playground. (Editor's Note: City Square Mall's Choo Choo train ride has ceased its operations on 31 December 2017.)

VivoCity
's train ride offers lovely views of the sea along the 300-metre waterfront Promenade.
It moves slowly and safely, and the train driver can set off the bells and whistles (choo choo!) as well as put out real smoke (non-toxic glycol-based vapour). The littlies will be thrilled to bits.
Tickets for City Square Mall's train ride are $6 per child – accompanying parents of kids under 90cm can hop on for free. You can find the ticket booth at City Green Park situated at the ground level of the mall.
Old-School Trishaw
Now you can tell your grandmother's story of how mummy or daddy used to hop onto trishaw rides for a mere 50 cents a ride. Yes, the rides used to be 50 cents! And policemen used to wear shorts.
Make the experience real for your wheel-crazy kid – take her for a ride on an old-school trishaw.
Too cool for school
Trishaw Uncle
is Singapore's only licensed trishaw tour operator, appointed by the Singapore Tourism Board.
There are few
routes
you can choose, including Bugis, Little India, and Singapore River. Or you can even opt for a
food-themed tour
, and sample Singapore's heritage foods.
Not one, not two, but THREE wheels. It'll make her day!
For ticketing and route map details, click
here
.
Bus Rides – All Kinds!
We have to confess that bus rides were the reason we decided to come up with this Wheel-Crazy Kids story.
Our little 2.5-year-old is absolutely and completely crazy about public buses.
Want to know which bus numbers or routes have double-decker buses, for the best views?
Bus fandom is a serious endeavour for adults, who call themselves bus enthusiasts or bus fans. You can find really interesting information about Singapore buses at Facebook pages
Buses[IN]apore is an established group which has close to 10,000 fans, while Omnibology offers an open invitation to anyone who has any questions about buses or getting around.
You can find a treasure trove of which interesting buses – and double-decker buses, of course – in these bus fan pages.
You will be your child's hero.
Alternatively, you could opt for open-top buses, which ply the city route.
Funvee
offers unlimited hop-on hop-off day passes (it's only $1.90 for toddlers 1-2 years old). Click
here
for routes, ticket details, and a suggested itinerary.
Hero, again!
Zoomoov
These furry animal wheelies are full of fun. You can spot Zoomoov at several shopping malls, happily zipping along.
Parents can hop onto the ride and accompany young tots. Older kids can steer by themselves.
Zoomoov rents out animal rides for parties, too, so it could be a treat for your child on her special day.
Unicycle
Think bicycles are too boring? Go for the unicycle.
The single-wheeled ride has a tight community in Singapore, and some of the members of
Singapore Unicyclists
are families with young kids.
While the youngest unicyclist in the world is possibly
this gutsy 2.5-year-old
, local group Singapore Unicyclists tells Little Day Out that they have had a few five-year-olds in their sessions.
You can contact the community through their
Facebook page
and maybe try out some unicycling with your kids.
Get more ideas for unusual sports to do with the family in our earlier
story
.
Stand-Up Riding
Yet another ride to give cycling a run for its money,
stand-up riding
gives you the workout in a much more refreshing way – yup, standing up.
A bicycle, a stair-climbing machine, a cross-trainer, and a kick scooter all rolled into one, stand-up riding is fun for the family and easy to pick up.
The swing scooter requires the rider to swing his body from side to side, and uses his body's momentum to propel the ride forward.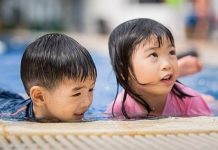 We often hear from parents that swimming is just one of the many activities their child takes part in after school. Which is great!...
Meet Playpoint's Playground designer, Aryen Liaw. Her job involves coming up with creative concepts, researching playground equipment and creating fun and safe spaces to...
FEATURED LISTINGS