An outing to Singapore Quarry is a long, hard trek through the jungle – NOPE.
In fact, the road leading to the disused quarry turned wetland sanctuary is an easy and well-paved one.
One of three disused quarries around Bukit Timah Hill, Singapore Quarry sits within the Dairy Farm Nature Park. The other quarries include Dairy Farm Quarry and Hindhede Quarry.
With its easy accessibility, a trek to Singapore Quarry makes for an easy day out – disguised as an adventurous hike.
---
Story continues below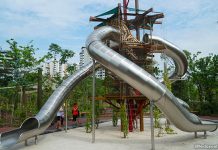 Play is not only the work of a child but a great way for families to bond as well. And where better for kids...
Let it snow, let it snow, let it snow in Singapore 2019. Dreaming of a white Christmas in tropical Singapore? Well, you can have...
---
If planning a visit to Singapore Quarry, the nearest starting point is at the Fu Yong Estate, just behind Rail Mall along Upper Bukit Timah Road.
Off Jalan Asas, a wooden bridge leads across to the road to the Singapore Quarry. From this point, the Quarry is only 700 metres away, within easy reach for young kids.
Even in the cool of the morning, it is inevitable that there will protests of "it's so hot" from the kids. A few encouraging words keep the troop moving forward.
Dad's Lesson 1: It is good for kids to step out of their comfort zone once in a while.
The road rises and falls as it leads toward the Singapore Quarry. Along the way, keep an eye for the wildlife. Animals that can be found here include squirrels, lizards and even snakes.
Dad's Lesson 2: New environments give kids the chance to exercise their observation skills – we just need to challenge them to do so.
A working quarry up till the 1980s, Singapore Quarry has been transformed into a wetland for wildlife. From a large viewing deck, you can look up to the Western face of Bukit Timah Hill.
There is a shelter at the observation deck where the kids can break out their bottles and drink up after the walk. This is a good spot to hear from them how they found the walk to the quarry.
Dad's Lesson 3: Heading out in a group gives kids the chance to practise interacting with others and articulating their views.
The quarry's waters are filled with tilapia and koi. Look hard enough and you may be able to spot a large catfish too.
The quarry is a haven for birds such as the kingfisher and starling. If you fancy a spot of bird watching, bring along a pair of binoculars though.
On the way back from the Singapore Quarry, a younger child started to fall behind from the rest of the group. One of the older kids saw this and decided to walk alongside her to keep her company.
Dad's Lesson 4: Let kids take on appropriate responsibilities and learn to show concern for others.
Back at Jalan Asas, there is a playground that kids naturally gravitate towards. Even after the walk, the sight of a playground incites a burst of energy that has the kids scrambling towards it.
Dad's Lesson 5: Sometimes, it is best to let kids be kids.
For the dads on the walk, the next stop was the coffee shop at Rail Mall for a sit-down and chilled beverage of our own. Ah, the perils of a morning walk.
In celebration of Sesame Street's 50th anniversary, local souvenir retailer Goldwood Singapore just launched its line of Sesame Street themed products! From fun t-shirts in...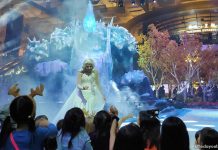 Enjoy a dazzling light show, experience snow in the tropics, meet your favourite Frozen characters – Anna, Elsa, Olaf, and embark on an obstacle...
FEATURED LISTINGS