Here's a calendar of the Singapore Public Holidays, Singapore School Holidays and School Term Holidays scheduled for primary and secondary schools, and junior colleges for 2016.
Get into holiday glee with six three-day-long weekends in 2016 thanks to New Year's Day, Chinese New Year, Good Friday, Labour Day, Hari Raya Haji and Christmas Day falling on a Friday, Sunday or Monday!
Time it with three days of leave – on 4 and 5 July, as well as on 8 August – and there will be eight long weekends altogether in 2016!
Your long weekends could take place during New Year's Day (January), Chinese New Year (February), Good Friday (March), Labour Day (May), National Day (August), Hari Raya Haji (September) and Christmas (December).
Singapore Public & School Holidays Calendar 2016
Download the calendar (iCal) and have lots of fun planning more Little Day Outs with your family!
Download Little Day Out's Free 2016 Yearly e-Calendar (PDF) that marks out the public holidays, school holidays and long weekends for 2016!
Singapore Public Holidays 2016
New Year's Day Friday, 1 January 2016
Chinese New Year Monday and Tuesday, 8 & 9 February 2016
Good Friday Friday, 25 March 2016
Labour Day Sunday, 1 May 2016*
Story continues below...
---
---
Story continues...
Vesak Day Saturday, 21 May 2016**
Hari Raya Puasa Wednesday, 6 July 2016
National Day Tuesday, 9 August 2016
Hari Raya Haji Monday, 12 September 2016
Deepavali Saturday, 29 October 2016**+
Christmas Day Sunday, 25 December 2016*
* The following Mondays, 2 May 2016 and 26 December 2016, will be public holidays.
** The following Mondays, 23 May 2016 and 31 October 2016, will be school holidays.
+The date for Deepavali needs to be checked against the Indian Almanac when it is available, usually by the first half of the year. Should there be a change in date, the Ministry of Manpower (MOM) will issue a media release to announce the change.
Scheduled Singapore School Holidays for 2016
The school year for 2016 for all MOE primary and secondary schools will start from Monday, 4 January and end on Friday, 18 November 2016.
Youth Day Sunday* 3 July 2016
Day after National Day Wednesday, 10 August 2016
Teachers' Day Friday 2 September 2016
Children's Day Friday** 7 October 2016
* The following Monday, 4 July 2016, will be a scheduled school holiday.
**For primary schools & primary sections of full schools only.
Singapore School Term Holidays 2016
After Term 1 Saturday 12 March to Sunday 20 March 2016
After Term 2 Saturday 28 May to Sunday 26 June 2016
After Term 3 Saturday 3 September to Sunday 11 September 2016
After Term 4 Saturday 19 November to Saturday 31 December 2016
Note: International school term holidays may differ. Please check with your child's school.
Sources: Singapore Public Holidays 2016 released by the Ministry of Manpower on 8 April 2015 and School Terms and Holidays for 2016 announced by the Ministry of Education on 14 September 2015.
Download Little Day Out's Free 2016 Yearly e-Calendar (PDF) that marks out the public holidays, school holidays and long weekends for 2016!
| | |
| --- | --- |
| | Download the iCalendar file by clicking on or right-clicking the calendar icon and selecting "Save Target As…" or "Download Linked File As…". |
There are plenty of festive events and activities taking place in Singapore as we approach the Year of the Pig. For those looking for things to...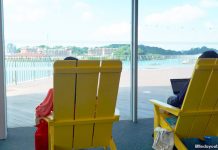 The new library@harbourfront, located within VivoCity shopping mall, brings the reading experience closer to the masses with its opening on Saturday, 12 January 2019. The...
FEATURED LISTINGS