Want to be at Singapore's Golden Jubilee National Day Parade (NDP)? Applications for parade tickets are accepted from 8 May 2015.
Tickets application can be made through the NDP website (www.ndp.org.sg), via SMS, or over AXS and SAM machines. There are two ticketed venues for this year's parade, the Padang, where the National Day Parade will be held or the satellite site at The Float. Both venues seat 25,000 spectators each.
Applicants can choose to ballot for two, four or six tickets to either the preview session on 1 August 2015 or the actual parade on 9 August 2015.
Application for tickets takes place from 8 to 17 May 2015. Successful applicants will be notified from 1 to 5 June 2015 and they can collect their tickets from 5 to 14 June.
Visit the NDP website for more information.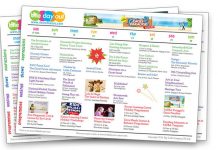 The school holidays 2018 are here! The year-end school break in Singapore takes place from 17 November to 31 December 2018 and it is...
Velocity@Novena Square is celebrating the year-end holiday season with a Hot Air Balloon Fiesta from 30 November to 30 December 2018. Take a ride...
FEATURED LISTINGS