Are your kids good at following instructions? Well, a Little Old Man in I Theatre's production of The Gingerbread Man wasn't really good at that all. And that turned out to be a recipe for disaster.
Just what exactly happens in this live re-telling this time when The Gingerbread Man returns? It may be a tasty story we all know well, but it has been re-worked and frosted with valuable lessons for all ages.
Catch I Theatre's upcoming theatre production of The Gingerbread Man, taking place from 5 to 10 May 2015, at PJ Live Arts in Kuala Lumpur and from 20 May to 7 June 2015, at Jubilee Hall in Singapore.
In conjunction with the upcoming production, Little Day Out is happy to present The Gingerbread Man Printable Activity Sheets. Let your children have a fun and engaging time with these printable activity sheets to complete the theatre experience either before or after the show!
Be sure to book your tickets and download The Gingerbread Man printable as part of a larger I Theatre 15th Anniversary pack today.
Details
Date: 5 to 10 May 2015
Venue: PJ Live Arts, Kuala Lumpur
Date: 20 May to 7 June 2015
Venue: Jubilee Hall, Raffles Hotel, Singapore
Recommended for: 3 to 13 year olds and families
Duration: 50 minutes with no interval
Story continues below...
---
---
Story continues...
Script & Lyrics: Brian Seward
Directed By: Brian Seward
Music composed by: Bang Wenfu
Music Arranged and Directed by: Bang Wenfu
Cast: Alecia Kim Chua, Daphne Ong, Jo Tan, Faizal Abdullah, Hang Qian Chou
Choreographer: Cathy Kee
Set Designer: Wai Yin Kwok
Costume Designer: Brian Seward
Costume Realisation: Joanne Ng Mui Huang
Tickets available through:
SISTIC Website www.sistic.com.sg
SISTIC Hotline (65) 6348 5555
SISTIC Authorised Agents islandwide.
Related Articles
Read more: The Gingerbread Man Returns!
Go Behind the Scenes: Meet The Gingerbread Man: Behind the Puppet!
Velocity@Novena Square is celebrating the year-end holiday season with a Hot Air Balloon Fiesta from 30 November to 30 December 2018. Take a ride...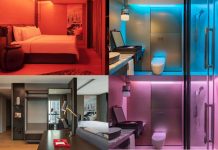 Lighting that adapts to a guest's body rhythm, a multisensorial Experience Shower and an in-room wellness wall. These are some of the features at...
FEATURED LISTINGS