Sitting at the foot of Mount Faber, the alcove of housing blocks at Telok Blangah Rise is probably best known for its food centre and other eateries scattered around the neighbourhood centre.
With this in mind, the new kid in the neighbourhood seems to fit right in.
Old Habits
Old Habits is a boutique and café that opened in 2014. The establishment celebrates everything yesteryear with its décor and style, but serves up completely up-to-date grub. It is, dare we say, hipster.
Stepping into the café feels like stepping back in time to the 1970s and 1980s. Take a seat at a table with an old sewing machine base for its legs and soak in the nostalgic atmosphere (See if you can resist rocking your feet back-and-forth on the machine's treadle). Lining the café's walls are vintage clocks (the round electric powered wall clock is classic!), along with old photographs, posters and even street signs. Crockery peeks out from antique, wooden cabinets faced with glass doors.
The menu is decidedly modern. Mains include as Old Habits Brekky ($12.50), a multigrain toast with chicken frankfurter, scrambled eggs, mushroom and garden greens, Mister Burger ($15.50) a beef burger with a sunny side up, and pasta dishes such as spaghetti carbonara and spaghetti topped with pan-fried salmon.
Old Habits also serves up desserts ranging from ice-cream to tiramisu and its house speciality, a coconut soufflé.
With its vintage-inspired ambience, Old Habits at Telok Blangah Rise may just be the place to hang out on a lazy weekend with friends and ease the kids to the past in style.
More to Explore
What's more, while you are there, pay a visit to the far end of the block where Dragon House Bird & Accessory and Tai Hwa Fish Birds Trading Co. are located. Of true vintage, you will probably "hear" the shops before you see them because of the squawking birds on sale.
Just behind Block 38 (where Old Habits in located) is a maze with two stone slides leading down to it. Perfect for kids to have a go!
Old Habits
Blk 38 Telok Blangah Rise, #01-315, Singapore 090038
Tuesday to Sunday
11 am to 9.30 pm
www.facebook.com/habitssg
Schools and Institutes of Higher Learning will implement full home-based learning from Wednesday, 8 April 2020, onwards. In addition, preschools and student care centres...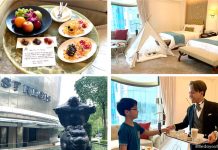 Right from the moment we arrived at The St. Regis Singapore, we were transported to a realm of old-world charm and graceful elegance. Beautiful...
FEATURED LISTINGS