Christmas music fills the air as you step into a fairyland of fairy lights under a canopy of giant "trees" and a backdrop of city lights.
It's hard not to admire how pretty Singapore can be at this time of the year.
This December, Gardens by the Bay'sChristmas Wonderland is helping to spread the wonder of the season. Don't expect fast-paced entertainment or a sensory overload of thrills at this free event. Instead, it provides a chance to slow down and enjoy time with loved ones as the year begins to wind down.
Illuminated Arches light the way toward the Festive Market at the Supertree Grove. Modelled after Christmas markets found in Europe, the Festive Market is made up of shops proffering artisan delights, crafts buys and foodie bites.
Open from 3 pm to 11 pm daily till 21 December, the eclectic mix of merchandise on sale includes cardboard puzzles and organic baby apparel alongside ice-cream sandwiches and crepes. You can even pick up a beer or glass of wine and enjoy a tipple at the laid-out picnic tables.
There is even an Isetan tent selling Japanese food and gifts for a spot of Christmas shopping (we hear that the Christmas is big in Japan).
More than just a collection of shops, the Festive Market feels like a village. Every village needs a centre and at the Festive Market, this is the Casa Armonica, a 9 metre high mini capola.
Story continues below...
---
---
Story continues...
The gazebo will host performances over the December period including 12 days of chorale music featuring choirs from Geylang Methodist Secondary School, Temasek Junior College and Nanyang Technological University amongst others. Singers such as Alemay Fernandez and Dawn Ho will also be performing here.
Roving performers can also be found around the Festive Market on certain days and there are even going to be bagpipers piping in the festive mood too. (We wonder if there will 11 of them and 12 drummers drumming too?)
If you want a magical dining experience, head over to the Spiegeltent (Dutch for Mirror Tent). This spectacular 200 year-old tent was specially imported from the Netherlands and pieced together by hand for Gardens by the Bay's Christmas Wonderland. Inside, it is decorated with mirrors and you'd be forgiven for thinking you've been transported to the Moulin Rouge. We think that the Spiegeltentprovides the most atmospheric dining experience in Singapore this December.
Beyond the main Festive Market is the Spalliera. The Italian word refers to the back of a bench or headboard of a bed. At Gardens by the Bay, it is a gigantic wooden structure that is brilliantly lit up with hundreds of lights, creating a wonderful backdrop to capture memories in a snapshot.
The real magic at the Spalliera takes place four times a night. This is when the "snow" comes falling down.
Yes, we know it is just foam but we think it is good, clean fun anyway! Rather than being a party for young ones alone, it's great to see both adults and children enjoying the experience at the Spalliera!
Snow at the Spalliera comes down at 7.30 pm, 8.20 pm, 9.05 pm and 9.45 pm daily.
Time your visit to Gardens by the Bay's Festive Market to coincide with the Garden Rhapsody light show at the Supertrees. A specially choreographed Christmas Edition comes on at 7.45 pm and 8.45 pm for a 12-minute Christmas music and light show.
If you can't get enough of the festive spirit, you can also visit Yuletide in the Flower Dome. Till 6 January 2015, the Flower Dome is putting on its best Yuletide cheer with a floral display that includes a charming miniature town and adorable snowmen.
Go in the evening to enjoy the enchanting lights in the Flower Dome and the cool of the conservatories for a magical time out.
To view Yuletide in the Flower Dome, the usual admission charges to the Flower Dome applies. Book online to skip the queues.
EVENT DETAILS
Christmas Wonderland at the Supertree Grove
Markets: 29 Nov to 21 Dec 2014; 3 pm to 11 pm
Lights: 29 Nov 2014 to 1 Jan 2015; 7 pm to 12 midnight
Free admission
Yuletide in the Flower Dome: 17 Nov 2014 to 6 Jan 2015; 9 am to 10 pm
Operating hours extended to 10:00 pm (29 Nov 2014 – 6 Jan 2015)
Flower Dome admission charges apply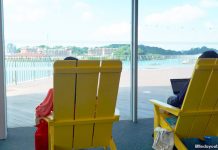 The new library@harbourfront, located within VivoCity shopping mall, brings the reading experience closer to the masses with its opening on Saturday, 12 January 2019. The...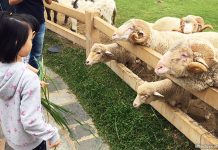 Sprinkled with quaint Italian-inspired villages, wineries with vineyards and flower fields against a mountainous backdrop, the region of Khao Yai near Bangkok, Thailand, offers...
FEATURED LISTINGS