For the year-end holiday season, Underwater World Singapore is offering a special admission price of $7.50 per person from 8 Nov 2014 till 1 January 2015.
The promotion is applicable to Singaporean Citizens, permanent residents, and holders of employment pass, work permit or dependent's pass who present a print-out or screenshot of the promotion together with their local ID at the ticketing counter.
Admission to Underwater World includes the Meet the Dolphins and Fur Seals sessions which take place at 11 am, 2 pm (except Wednesdays), 4 pm and  5.45 pm.
Regular ticket prices are $29.90 for an adult ticket and $20.60 for a child ticket.
For more information, visit www.underwaterworld.com.sg
Usher in Chinese New Year 2019 at HarbourFront Centre with family-friendly activities, including LIVE character performances, meet-and-greets, colouring and interactive walls, craft activities and...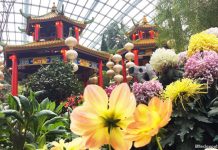 The rooftops of Chinese pavilions rise up above the foliage, beckoning visitors gazing at the Flower Field below to experience Dahlia Dreams at Gardens by the...
FEATURED LISTINGS