Primary school kids put their imagination and skills to the test by creating amazing toys at the 17th Sony Creative Science Award (SCSA). This year's competition saw a 19% increase in participation with a record 5,070 entries from 6,000 primary school students.
In the Whizkid category, the theme this year was "Twist-Turn-Tumble!" and children had to create toys that illustrated these principles when played with. Top place went to Sophia Tan, Primary 4, from CHIJ (Toa Payoh) who created Space Ball, a toy which involves getting as many balls as possible shot on to a planet or sun. Second and third placings went to Hou Wei Han, Primary 5, from Rulang Primary School and Ashley Tan, Primary 5, from Yew Tee Primary School respectively.
In the ScizKid category, children were challenged to create safe and sturdy toys based on at least one scientific principle. Top honours went to the sister-and-brother team of Zena Bek (Primary 6) and Zackary Bek (Primary 4) from Pei Chun Primary School. Their toy, Hungry Spider, required players to move marbles across obstacles by pulling rings to manoeuvre a spider. It incorporated scientific principles such as stored potential energy and gravity. Second prize winner was Sayed Haris Bin Sayed Hussin, Primary 3, from Frontier Primary. Third prize went to Swen Goh, Primary 5, from Rosyth School.
Winners of ScizKid (P3-6) – Pei Chun Public School's Zena Bek (P6) and Zackary Bek (P3) – with Mr Sam Tan, Minister of State, Prime Minister's Office & Ministry of Culture, Community and Youth, and Pei Chun Public School principal Mdm Ler Jia Luen.
Mr Jiro Aikawa, Head of Regional Governance & Accounting Group of Sony Electronics Asia Pacific added, "At Sony, we believe that science has a great and important impact on the future of our world, the same future that our children will live in. This is why we have organised SCSA in Singapore for 17 years, to engage our future generation on a platform that showcases the very best of their creativity and innovation through STEM."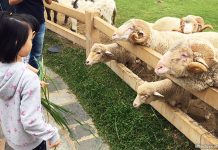 Sprinkled with quaint Italian-inspired villages, wineries with vineyards and flower fields against a mountainous backdrop, the region of Khao Yai near Bangkok, Thailand, offers...
Japanese organising consultant and author, Marie Kondo's latest venture Tidying Up with Marie Kondo premiered on Netflix on 1 January 2019, and it has sparked...
FEATURED LISTINGS