From 31 May to 29 June 2014, enjoy a special promotional rate at Underwater World Singapore.
Children between three and twelve will pay according to their age during the June School Holidays. For example, a five year old child need only pay $5.00 instead of the usual child admission price of $20.60. Children below three enjoy free admission.
Adults and Senior Citizens will also enjoy 20% off the usual admission price, only needing to pay $23.90 instead of $29.90.
To enjoy this promotion, visitors need to present a QR code voucher which is available from the Underwater World Singapore website. Additional terms and conditions apply.
For more details, visit www.underwaterworld.com.sg.
Related Articles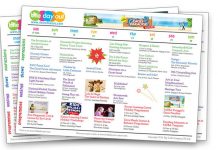 The school holidays 2018 are here! The year-end school break in Singapore takes place from 17 November to 31 December 2018 and it is...
Nestled unobtrusively in the basement of KK Women's and Children's Hospital (KKH) is a small bank that packs a big punch. Even though the...

FEATURED LISTINGS