Looking for fun and exciting things to do with your kids during the June school holidays 2014?
Get our FREE Guide to the June School Holidays 2014 to uncover the events and activities taking place around Singapore. With an overview of the entire four weeks of school holidays at your fingertips, you will never be at a loss for things to do.
Key events taking place are summarised into a handy guide to help you get the most out of the holidays.
Print it out and stick it on to the fridge to quickly plan out the activities you would like to do with your kids. The online version is also filled with clickable links so that you can easily find out more details about events you are interested in.
Download your FREE copy of printable Little Day Out's guide on fun things to do during the June School Holidays 2014 now!
Related Articles
Velocity@Novena Square is celebrating the year-end holiday season with a Hot Air Balloon Fiesta from 30 November to 30 December 2018. Take a ride...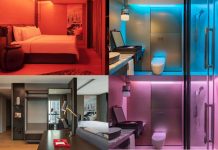 Lighting that adapts to a guest's body rhythm, a multisensorial Experience Shower and an in-room wellness wall. These are some of the features at...
FEATURED LISTINGS