Imagine a French countryside resplendent in rolling hills, rushing streams and delightful mountains. In the glorious sunset, you can almost catch a glimpse of a magnificent castle which boasts of wealth beyond measure. Enter a poor miller's youngest son, a talking cat in boots and two obnoxious ogres.
That sets the stage for the I Theatre production, Puss in Boots, at ACE! Festival 2014.
Director Brian Seward provides an interesting twist to the classic French tale Le Maître Chat, or "The Master Cat", which spins the story of how a cunning cat helps her master win the heart of a princess through the use of lies and trickery.
Seward's version is decidedly more positive, and while he acknowledges the role of the cat in the traditional rags-to-riches transformation of the miller's son, he also imbues strong family values of honesty and compassion into the script.
The titular character Puss, played by Candice de Rozario, apparently drew inspiration from her two cats Pirate and Spock as character study references for the role. Singing almost throughout the show, de Rozario gave a convincing performance as the courageous cat who masterly engineered her master's ascension to power.
The surprise among the cast was however Jo Tan, whose performance as Ogre Queen Arugula Funghi, stole the show with her impeccable French accent and witty lines; not to mention the operatic timbre of her singing voice.
---
Story continues below
Arts in Your Neighbourhood returns from 7 to 24 November 2019, bringing exciting performances and memorable arts experiences to your doorstep. Get ready for...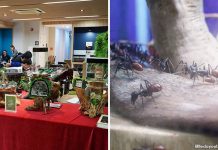 After a visit to the Singapore Ants Exhibition, you may never be able to look at the ants crawling around your home in the...
---
Puss in Boots dazzles; and not only because of the outlandishly spectacular costumes designed by Brian Seward. The music and dance choreography was what set this production above many others.
Choreographer Cathy Kee, for instance, entertained with many delightful dance manoeuvres. And music composer Bang Wenfu experimented successfully with a whole array of musical genres; from the opening jazz number to a Latino salsa tune, and even a re-make of the popular "Roar" by Katy Perry.
This was exactly what Bang told this reviewer during a Behind the Scenes interview (Read Conversations with Bang Wenfu – Music from the Heart) prior to the screening of the show. He mentioned that in musical theatre, it is important for songs to convey thematic coherence, and this was especially true for Puss in Boots.
The musical is recommended for families; especially children from 3 to 14. As with all other I Theatre productions, there is an element of audience participation, which in this case was through the use of flashcards to teach the audience how to pronounce the words "Marquis of Carabas".
The play is also very clever in its use of word puns and witty jokes; for instance, the use of cheesy names such as Gorgonzola, Mozzarella and Ricotta for the miller's sons and the ogres' names Arugula Funghi and Al Funghi certainly causes one to think about enjoying a crisp salad on a hot summer day.
This reviewer's older son, who turns 4 in July, was attentive throughout the show. He wanted to watch the show again immediately after it ended, telling us that he "liked" the cat.
Get More on Puss in Boots
Puss in Boots is part of the ACE! Festival 2014, and is running from now to 31 May. Get your Puss in Boots tickets from SISTIC now!
To extend your little day out at Puss in Boots for your children, download and try out the Puss in Boots Activity Sheets!
More on ACE! Festival 2014
Visit www.acefestival.org for more information.
Read more about ACE! Festival 2014: Fifth Anniversary, Five Shows here.
Go behind the scenes of Puss in Boots – Music from the Heart.
Go behind the scenes for Spot the Difference – The Actor-Character Dynamic.
Go ice skating. Complete an inflatable obstacle course. Become a human claw and grab attractive prizes! Fun times await at Aperia Mall's Christmas Village,...
Let it snow, let it snow, let it snow in Singapore 2019. Dreaming of a white Christmas in tropical Singapore? Well, you can have...
FEATURED LISTINGS