It has been 20 years since the Night Safari, the world's first safari park for nocturnal animals opened.
To celebrate its 20th Anniversary, from 24 to 26 May, the Night Safari will be offering Singapore and permanent residents Night Safari admission tickets at $20 each. Usual ticket prices for adults and children are $39 and $25 respectively.
There will also be variety of festive activities held from 24 to 26 May. Visitors can expect to be entertained by fire performances, talented shadow cutters and glittery face-painters. An exhibition will highlight the milestones in the park's history and guides will guided walks three times a night along the park's first exhibit, the Fishing Cat Trail.
Visitors to the Night Safari during the weekends in June will also be able to enjoy a select number of celebratory activities.
Don Don Donki at City Square Mall, the brand's third store in Singapore and its largest outlet yet, opens on 11 January 2019. The new...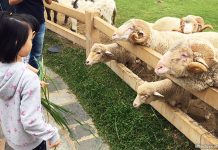 Sprinkled with quaint Italian-inspired villages, wineries with vineyards and flower fields against a mountainous backdrop, the region of Khao Yai near Bangkok, Thailand, offers...
FEATURED LISTINGS