List of Birthday Party Themes and Ideas for Girls

Alice in Wonderland

Alphabet

Angry Birds

Apple

Arts and Crafts

Baking

Ballerina

Balloons

Balls

Barbie

Beach

Story continues below...

---

---

Story continues...

Beauty and the Beast

Birds

Board Games

Bowling

Bubbles

Bumble Bees

Bunnies

Care Bears

Charlie & Lola

Cheerleading

Cooking

Chocolate

Cinderella

Circus

Cowgirl

Despicable Me

Dessert

Dance

Diamonds

Dinosaurs

Disney

Doc McStuffins

Dogs

Dolls

Dora

Duck

Elephants

Elmo

Fairy

Fairy Tales

Farm

Fashion

Fish

Five Stones

Flamingos

Flowers

Frozen (Disney Movie)

Garfield

Giraffes

Glam

Goldilocks

Gymnastics

Hats

Hello Kitty

Ice Cream

In the Night Garden

Japanese

Jungle

Kampong Games

Kites

Lego

Lilo & Stitch

Little Red Riding Hood

Littlest Pet Shop

Lollipops

Magic

Mermaids

Mice

Mickey Mouse

Minecraft

Minnie Mouse

Music

My Little Pony

Ni Hao Kai Lan

Olympics

Ocean

Pajamas

Pancakes

Peacocks

Pearls

Penguins

Peter Pan

Picnic

Pink

Pizza

Pokemon

Polka Dots

Ponies

Poodles

Pool

Pororo

Princess

Rainbows

Safari

School

Sesame Street

Sheep

Skating

Sleeping Beauty

Smurfs

Sports

Stars

Strawberry Shortcake

Sunshine

Superheros

Sweets

Tie dye

Toy Story

Under the Sea

Very Hungry Catepillar

Zoo
Related Article
>> Check out the 111 Birthday Party Themes for Boys!
During the Year-end School Holidays 2018, come face-to-face with dragons at Singapore Zoo from 17 November to 31 December 2018. Dragons at Singapore Zoo Get to...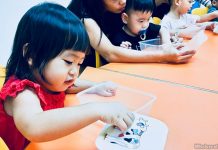 A former educator, I consider myself to be fairly open when it comes to "teaching" my child. I don't believe in hothousing at this...

FEATURED LISTINGS