The Amazon River Quest boat ride at the River Safari opened on 7 December 2013.
With the long-awaited opening of the boat ride, visitors can now view terrestrial animals such as the Brazilian Tapir, Jaguar and Giant Anteater at the River Safari.
To experience the boat, children must be 1.06m and above. Children between 1.06m and 1.35m must be accompanied by a supervising adult. The boat ride involves moderate acceleration, elevation changes and minor bumping. Expectant mothers are not allowed on the ride.
The River Safari has been open sans the Amazon River Quest boat ride since April 2013.
It is anticipated that admission prices will rise from the current temporary pricing of $25.00 per adult and $16.00 per child which has been in place since April due to the delay in the Amazon River Quest boat ride's opening. The River Safari website states that usual admission to the River Safari is priced at $35.00 per adult and $23.00 per child.
Don Don Donki at City Square Mall, the brand's third store in Singapore and its largest outlet yet, opens on 11 January 2019. The new...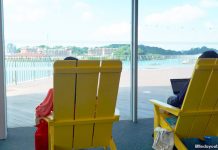 The new library@harbourfront, located within VivoCity shopping mall, brings the reading experience closer to the masses with its opening on Saturday, 12 January 2019. The...
FEATURED LISTINGS