Go on a wild ride with Mumble, the dancing penguin, and his hilarious friends from Happy Feet.
In the new 4D motion-simulated ride,Happy Feet Mumble's Wild Ride! atSentosa 4D AdventureLand, hop into a capsule, don on pair of 3D glasses and hang on as you follow Mumbles on an adventure that starts at the peak of an icy cliff and quickly makes its way down to the chilling waters where he encounters a villainous Leopard Seal.
Happy Feet Mumble's Wild Ride! was launched on 16 November and this is the first time it is being presented in Asia. The ride shares the same theatre as the Extreme Log Ride and the two rides alternate every hour.

Children can also enjoy a Happy Feet themed activity corner where there are free activities such as connecting the dots and crossword puzzles.
Sentosa 4D AdventureLand is Sentosa's high-tech interactive zone. Other than experiencing Happy Feet Mumble's Wild Ride!, visitors to Sentosa 4D AdventureLand can watch Journey 2: The Mysterious Island – The 4D Experience, go on an Extreme Log Ride virtual rollercoaster and play the interactive shooting game, Desperados.
Sentosa 4D AdventureLand admission tickets provide visitors with unlimited access to the rides in one day. Admission tickets are priced at $38.90 for adults and $26.90 for children between three and 12 years old.
DETAILS
Sentosa 4D AdventureLand
51B Imbiah Road
Sentosa
www.4dadventureland.com.sg
Operating Hours: 10.00 am to 9.00 pm; last ticket sale at 8.15 pm.
Related Articles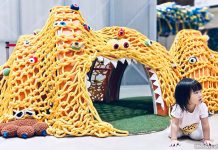 The Artground ushers in the new year with Wild Rumpus, a brand new installation by artist and designer, Adeline Loo, featuring some of the...
Scroll to the bottom to participate in our Giveaway! It is not every day that kids get to enter a dragon's mouth but that is...
FEATURED LISTINGS