Dinosaurs have always fascinated a child's imagination and dinosaur-themed events are not uncommon.
However, the Science Centre Singapore's latest dinosaur exhibition,Titans of the Past – Dinosaurs and Ice Age Mammals, is different from others you may have seen before.
Why, you ask?
Real Fossils – For starters, you will be able to see real dinosaur fossils together with dinosaur castings at the exhibition. These have been shipped over from the Museum of the Rockies in the United States and on display is even the world's largest T-Rex head. This is not insignificant as T-Rex fossils are so precious that they rarely ever leave the United States.
Two-in-One – The Titans of the Past – Dinosaurs and Ice Age Mammals exhibition combines two travelling exhibitions into a single mega one. The first exhibition is from the Museum of the Rockies (in collaboration with animatronics from Kokoro Co., Japan) and the second is from Aurea Exhibitions, Argentina which includes a 36 metre long Argentinasaurous. The Science Centre Singapore has chosen to curate the two exhibitions as The Titans of the Past. In this case, bigger IS better!
Groundbreaking Science – Dr Jack Horner, world-renowned paleontologist and curator at The Museum of the Rockies, postulates that dinosaurs were social creatures, just like birds and humans. In the same vein, their physical appearance changed from childhood to maturity, in much the same way as a furry yellow chick looks nothing like a fully-grown hen. As a result, he challenges conventional thinking and suggests that more than one-third of dinosaurs from the Cretaceous Period could be the same species that have been misclassified. This groundbreaking research is presented in the first section of the exhibition.
All very Jurassic Park – and oh, did we forget to mention that Dr Horner was the technical advisor on the Jurassic Park movies?
Walk-through with the Dinosaurs
Entering the Titans of the Past exhibition, visitors will first encounter an echelon of triceratops. Lined up neatly, you can witness for yourself why Dr Horner arrived at his hypothesis that the physiology characteristics of the animal changed from young to maturity. Notice how the horns start off pointing backward and start to point forward as the triceratops mature. A short cartoon (with a very local accent) in the next room elucidates this idea further for kids.
Venturing further in, you enter into T-Rex territory. The first T-Rex is affectionately known as Wankel T.rex, after Kathy Wankel who discovered it in 1988. This specimen is one of several on display at the exhibition.
Story continues below...
---
---
Story continues...
Next to Wankel is the largest T-Rex head fossil ever found at 1.42 metres in length. Surprisingly, even though it was discovered in 1965, it remained in storage until being finally pieced together in the 2000s.
Realistic animatronics further explore the different feeding habits of adult and juvenile tyrannosaurs rexs. You will be mesmerised by the full-size, moving model of the T-Rex whose stunted hands we found extremely amusing.
That's One Huge Dinosaur!
The next hall is dominated by the titanic Argentinosaurous skeleton. Dwarfing everything else in the room, it is as long as three SBS buses. Sit in its shadow to catch a film on dinosaurs or take part in the other activities scattered around the room that provide more information about the prehistoric age of dinosaurs.
Here, you will also find a "dig pit" where young, budding paleontologists can try their hand at unearthing a fossil. There are also some fossils, for example that of a cave bear tooth, that you can come into touch with.
Enter the Ice Age
The last gallery of the exhibition is also the noisiest. Trumpeting sounds and angry grunts emanate from ten animatronic mammals that include a mastodon, mammoth and sabre-toothed cat. With a backdrop of twinkling stars, you can imagine what it must have been like encountering one of these early mammals in the wild.
For Young Explorers
Throughout the exhibition are activity stations to keep kids occupied. Activity tables let young children colour their favourite dinosaurs or use stamps to complete pictures. You can learn the A-to-Z of dinosaurs with peek-a-book flaps that are found on the walls along the dinosaur trail.
Information panels with push buttons also present interactive ways for kids to learn more about dinosaurs.
Also available are activity booklets for children to complete while they are at the exhibition. These are divided into pre-school and primary school level booklets.
Visiting Titans of the Past
Titans of the Past – Dinosaurs and Ice Age Mammals is an exciting new exhibition at the Science Centre Singapore. Arriving in time for the December school holidays, it looks like this will be a blockbuster exhibition of colossal proportions.
We liked that it works on multiple levels – plenty of dinosaur and ice age mammal models to 'wow' young children and with content deep enough to serve as a starting point to engage older children in discussions on the evolving nature of scientific discovery.
The last word on the Titans of the Past exhibition belongs to Dr Jack Hohner who was present at the exhibition's opening. When asked what he hoped visitors would takeaway from a visit to the exhibition, he simply exclaimed, "Dinosaurs are cool!"
Yes they are!
Titans of the Past – Dinosaurs and Ice Age Mammals
25 October 2013 to 23 February 2014
10 am to 6 pm, daily
Science Centre Singapore, The Annexe
Admission charges:
Adult – $25, Child – $19 (including Science Centre Singapore admission)
Adult – $20, Child – $16 (exhibition only)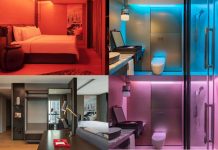 Lighting that adapts to a guest's body rhythm, a multisensorial Experience Shower and an in-room wellness wall. These are some of the features at...
With over 30 centres in Singapore, MindChamps PreSchool offers premium early childhood education programmes developed by international experts as well as education specialists who...
FEATURED LISTINGS