The Istana is the official residence and office of the President of the Republic of Singapore. Set on a hill along Orchard Road, the Istana (which means "palace" in Malay) and its grounds are open to the public only on special occasions. These are typically for Chinese New Year, Labour Day, National Day, Hari Raya Puasa and Deepavali.
On these Istana Open House days, the public can visit the grounds of the Istana usually from 8.30 am to 6.00 pm. Little Day Out brings you eight tips on what to expect when planning a visit to the Istana on these Open House days.
1. Free Admission to the Istana Grounds for Singaporeans and PRs
There are two queues at the Orchard Road entrance to the Istana grounds, one for Singaporeans and Permanent Residents (PRs), and the other for foreign visitors. The one for Singaporeans and PRs is normally shorter. Have your pink or blue NRIC ready to get your free entry. Foreign visitors need to pay a $1 admission fee. After clearing the gate, both queues converge into a single queue for security screening, so be prepared for a bit of a wait during busy periods.
2. Activities within the Istana Grounds
Other than admiring the greenery and expanse of the Istana grounds, you will also find booths set up by organisations such as Wildlife Reserves Singapore and charities. Performances by schools and other invited groups are held throughout the day. There is even a play area set up for young children.
3. Entering the Istana Building
To enter the white 144-year-old Istana Building, all visitors need to get are entrance tickets priced at $2. Inside, you can view the rooms within this national monument where state occasions are held, the different gifts that have been presented to the President and the Prime Minister, and the stateroom where the President sits. Tickets can be purchased beside the Istana Building.
45-minute guided tours of the Istana Building are conducted by the Preservation of Monuments Board volunteers usually at a 15-minute interval, from 9.00 am to 4.30 pm. The guided tour is priced at $2 for a child aged four to 12, $4 for a Singaporean and PR, and $10 for a foreigner. Family packages are available at $12 (instead of $16) for four Singaporeans and PRs, and $30 (instead of $40) for four foreigners. It is free for children aged 3 and below and an adult must accompany all children aged 12 and below. Registration is on a first-come-first-served basis and tour participants will receive a special Istana souvenir borchure and an exclusive collar pin.
Story continues below...
---
---
Story continues...
Proceeds from the tours and entrance fees collected as well as the sale of Istana souvenirs are donated to charity.
4. Bring Your Own Snacks and Drinks
There is usually only one stall selling drinks and ice cream on the Istana grounds. It is located halfway up the hill to the Istana building. If you think your kids will be clamouring for a snack or a drink after running around the grounds, remember to bring along something to quench their thirst. Just note that no alcoholic drinks are allowed into the Istana grounds.
5. The Stroller is Your Friend
Families with babies or toddlers should being along their stroller. The Istana grounds are huge. It is a 10 to 15 minute, uphill walk from the gates to the main Istana building. You will be glad to have brought your stroller along for the little ones.
6. Go Before You Go
The main public toilets on the grounds are port-a-loos located near the military guardroom. So, if you don't fancy using a plastic convenience, we suggest that you 'go' before you head to the Istana grounds. Having said that, the toilets were pretty clean the last time we used them, but you never know…
7. Istana Art Event
Held once a year, the Istana Art Event is an outreach event organised by the National Heritage Board and led by Singapore Art Museum, in conjunction with the Istana Open House in celebration of National Day. Let your child aged three to 12 join in the On-the-Spot Art Competition from 8.00 am, and the many other activities by participating museums and heritage institutions at the Arts and Heritage Village from 9.00 am to 5.00 pm.
8. Apps for the Istana Grounds
Apple and Android users can download an app, the Istana Garden Walk, that allows visitors to scan QR codes around the Istana grounds in order to find out more about the Istana's landmarks. This free app was developed by Temasek Polytechnic to provide an interactive self-guided tour option for visitors.
Click below to download the: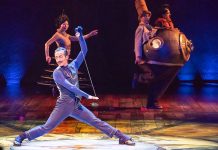 Set in a steampunk alternate reality, KURIOS – Cabinet of Curiosities by Cirque du Soleil is a stunningly visual treat with arresting acts and...
We all love food and when we visited the new digital lifestyle mall, several Funan food places caught our eye. Here are some Funan...
FEATURED LISTINGS