To celebrate Singapore's National Day, Marina Bay Sands will be offering free admission for all visitors to the its newest exhibition, Essential Eames: A Herman Miller Exhibition from 9 to 11 August 2013.
The Exhibition covers the life and work of Charles and Ray Eames, a husband-and-wife team, who were among the most influential and well-known American designers of all time.
To find out more about what to expect, read Little Day Out's review of the Essential Eames: A Herman Miller Exhibition at the ArtScience Museum.
During the Year-end School Holidays 2018, come face-to-face with dragons at Singapore Zoo from 17 November to 31 December 2018. Dragons at Singapore Zoo Get to...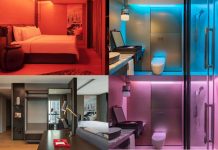 Lighting that adapts to a guest's body rhythm, a multisensorial Experience Shower and an in-room wellness wall. These are some of the features at...

FEATURED LISTINGS