With Hari Raya Puasa on 8 August and National Day on 9 August 2013, we have a four days long weekend.
Wondering what to do with the kids over the long weekend?
We have put together a quick guide to a selection of activities taking place around Singapore for children and families to enjoy over the four-day period.
Download Little Day Out's Guide to the Long Weekend from 8 to 11 August 2013 by clicking on the image below!
---
Story continues below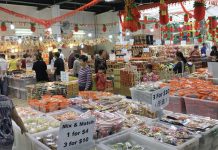 Want to know where to get superb CNY bargains? We uncover where the aunties shop for their festive goodies! Don't let the distance deter...
Singapore's shores are teeming with wildlife we wouldn't usually notice. Getting to an intertidal zone during periods of low tide is the best way...
---
For even more fun ideas, refer to our Events section, or see our recent articles and reviews of places to know where to head out to as a family!
Have many a great little day out this long weekend!
West is best and we have the biggest bouncy playground to prove it. Bouncy Paradise which was last seen with its pop-up at PeopleUp@Pandan....
No visit to Seoul with the family is complete without a visit to South Korea's biggest theme park: Everland! We had an awesome day...
FEATURED LISTINGS