With Hari Raya Puasa on 8 August and National Day on 9 August 2013, we have a four days long weekend.
Wondering what to do with the kids over the long weekend?
We have put together a quick guide to a selection of activities taking place around Singapore for children and families to enjoy over the four-day period.
Download Little Day Out's Guide to the Long Weekend from 8 to 11 August 2013 by clicking on the image below!
For even more fun ideas, refer to our Events section, or see our recent articles and reviews of places to know where to head out to as a family!
Have many a great little day out this long weekend!
GIVEAWAY ALERT: Take Part in the Micro Monster Mayhem Giveaway to Win Attractive Prizes Your little one has had the sniffles for a few days. Now the...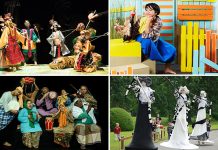 Arts in Your Neighbourhood (AYN) - an initiative by the National Arts Council (NAC) - returns for its 11th edition this November with close...

FEATURED LISTINGS