How do elves throw a party? Kids at the Christmas Party with Santa's Playful Elves had a chance to find out for themselves.
Held on 23 December 2012, the very first Playful Christmas Party at Playful Elves – an indoor playground at West Coast Plaza – started with the children creating their own festive crafts. With a concoction of felt, beads and glitter, voilà, they soon had their very own custom glittery bookmark to match the season!
Santa's Magic Show
Children were also treated to a magic show. Dressed in a Santa suit and brandishing balloons that transformed into an assortment of dogs, guns and swords, the magician kept the kids entertained with his many antics and tricks.
Jigsaw Treasure Hunt
Ever heard of elven treasure? Well, the kids went in search of it around the indoor playscape, exploring each nook and cranny to uncover wooden puzzle pieces in this team game.
Christmas Elf Dance
The kids even got to hippity-hop along to an elven mass dance led by Playful Elves' staff.
Story continues below...
---
---
Story continues...
Christmas Feast
No party is complete without food. There was plenty at this Christmas party, including Turkey Macaroni, Chicken Nuggets, Say 'Cheese' Sandwiches and a Snowy Logcake, which the kids eagerly tucked into.
By the end of the evening, the kids were having a blast bouncing around the Playful Elves indoor playground with their newly made friends, celebrating the joyful spirit of Christmas.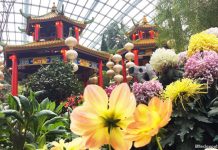 The rooftops of Chinese pavilions rise up above the foliage, beckoning visitors gazing at the Flower Field below to experience Dahlia Dreams at Gardens by the...
Japanese organising consultant and author, Marie Kondo's latest venture Tidying Up with Marie Kondo premiered on Netflix on 1 January 2019, and it has sparked...
FEATURED LISTINGS