Singapore's Water Fountains – Alternative Free Water Play Areas for Kids
Sometimes, the best things in life are the simplest. Come rain or shine in tropical Singapore, it is pure joy to see squirts of water spouting from the ground, prancing in carefree abandon. They appear in an instant and vanish the next, leaving us wondering for a split second when they will show up and surprise us again. They are especially mesmerising for kids and even more delightful for us to watch when the young ones happily weave in between and bounce along with these mischievous spouts of water.
Little Day Out went on an islandwide hunt for the best free water play sites in Singapore. Unlike water playgrounds and water theme parks with built-up water playground structures, these are simple water fountains and spouts where you can enjoy free and fascinating water fun.
Outdoor Water Fountains in Singapore
These water features and water spouts are usually placed at the forefront or in the centre of an atrium and serve as great meeting points. What better way to pass our time while waiting for someone than to stare at these manmade geysers? Even if we are rushing by, the sound of the splashes and the visual fluidity will certainly catch our attention.
Bugis Junction Water Fountain
With playful spouts of water bouncing up and down from the ground, the water play fountain outside BHG at Bugis Junction invites kids to play and interact with it. Don't worry about bringing a change of clothes. It's a great reason to do more shopping! See more on Bugis Junction's Water Fountain Area…
---
Story continues below
This year-end 2019 season, Frozen at Changi Airport is a treat for fans of Disney's latest movie. For those who are planning to make...
In celebration of Sesame Street's 50th anniversary, local souvenir retailer Goldwood Singapore just launched its line of Sesame Street themed products!From fun t-shirts in...
---
Kinetic Garden, Science Centre Singapore
At the entrance to the Science Centre is the Kinetic Garden where kids can play with different structures that demonstrate the application of scientific principles. While the water spouts pale in comparison to the massive Water Works just across the walkway, you do not need to pay to enjoy the Kinetic Garden. See more on Kinetic Garden at Science Centre Singapore…
VivoCity Water Fountain
Facing Telok Blangah Road, VivoCity's elegant water fountain rises up like waves from the ground. Adventurous kids can try to meander their way through the water spouts. See more on VivoCity's water play areas and features…
Sheltered Water Fountains in Singapore
The dancing water fountain at Basement 1 of Raffles City Shopping Centre is well-known but it is only good for watching. Here are two others where you can get the sense of being both indoors and outdoors at the same time, and swirl and dance away with the water waves!
Clarke Quay's Central Fountain Square
Right at the heart of Clarke Quay is the Central Fountain Square. The spouts of water will inspire the kids to dance along while you enjoy a cuppa in one of the cafés around the Square. See more on Clarke Quay's water fountain…

The Star Vista Water Fountain
The fountain in the middle of The Star Vista's atrium is with natural ventilation yet sheltered. You can sit on the steps leading towards the atrium to watch the fountain rise and fall or skip along with it or through it. See more on The Star Vista's water fountain…
Unique Water Fountains in Singapore
More than just mere spouts, there are special founts a-plenty in Singapore. The Fountain of Wealth at Suntec City, a symbol of wealth and life, has been recognised as the world's largest fountain since 1998. Over at the mouth of the Singapore River, the world famous archetypal icon of Singapore, the Merlion, sits at the Merlion Park, continuously spouting water into the river.
Merlion Walk's Shallow Pools & Fountain Spouts
Take an amble down the colourful 120 metre-long Gaudi-inspired mosaic walkway with cooling shallow pools and fountain spouts. See more on the Merlion Walk & Merlion Plaza…
Marina Barrage Water Playground
Marina Barrage is Singapore's first city reservoir with restaurants, a free gallery, an open rooftop garden and a large water play area with a great view of the city. It is popular with the kite-flying public who make their way to the grassy roof of the barrage building to unleash their kites in the strong winds. Kids will also enjoy wading in the water pools and playing among the dancing fountains. What's more, you can learn more about Singapore's efforts towards environmental sustainability through the years at the Sustainable Singapore Gallery. See more on Marina Barrage…
Palawan Beach Water Play Area
Palawan Beach is a family-friendly beach where kids can play in the sand and go swimming in the lagoon. Just before the beach, next to the air-conditioned food court, is a shallow wading pool with small spouts of water for a great amount of fun. See more on Palawan Beach…
Whirlpool at Marina Bay Sands
Marina Bay Sands' Whirlpool is a huge bowl structure where a whirlpool feature is generated throughout the day. From the floors below the bowl, the whirlpool seems like the a replica of a waterspout. You can't exactly get to the water, but it sure is fascinating to watch. Better still, when the whirlpool is not switched on, you can try whispering across the bowl to someone on the opposite side. See more on the Whirlpool at Marina Bay Sands…
Why These Water Fountain Areas are Great for a Little Day Out
They are fun and free. Catch them in operation throughout the day!
Who are these Water Fountain Areas Perfect for
Kids and kids at heart who love to run around and have a splashing good time!
Little Day Out Tips & Suggestions
If there are ongoing events at some of these places, the fountains may be switched off so do call to check.
Bring a towel and change of clothes for the kids.
Supervise the kids as they play.
How To Get To These Water Fountain Play Areas
We hope you enjoyed these snapshots of swooshing water fountain features found in Singapore and will keep an eye out for them the next time you're near them. Or simply seize the inspiration of the moment, get the kids going now and have a great little day out!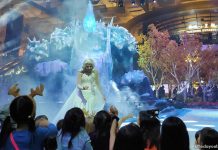 Enjoy a dazzling light show, experience snow in the tropics, meet your favourite Frozen characters – Anna, Elsa, Olaf, and embark on an obstacle...
Can learning about Asian culture be an exciting experience for kids? You bet! From now till 29 December, little ones can take part in...
FEATURED LISTINGS