The Lantern Festival at the Chinese Garden is back!
From 7 September to 7 October, the Chinese Garden has been transformed into a lantern landscape with large lighted displays throughout the grounds. This year's theme is "Fairyland". Just in case you are wondering what to expect, this means that the lantern displays are based on "Fairy Tales", both western and eastern in origin.
On this Little Night Out on a Saturday evening, we (two families with five children in total) took a walk around the Lantern Festival.
As we entered the Garden, a dragon wall, with blue and red dragons swaying side-to-side, welcomed us. The scale of the display and the moving dragons mesmerised the kids who kept running up and down the stairs to look at the display.

Leading off along the water's edge were a row of stalls. Here, the organisers gave out a limited number of free paper lantern to early birds. Stalls also sold more elaborate lanterns, drinks and other Mid-Autumn must-haves. Slightly further down, next to the twin pagodas, there was a wishing tree where "wishes" could be tossed into the spralling branches above. Nightly acrobatic shows are held at the stage that had been setup at the Chinese Pavilion and there are fireworks displays at 9 pm on Saturday and Sundays.

However, our kids were more interested in the Kiddy Funland carnival area instead. This comprised of bouncy castles, a huge inflatable ball that goes on water, train and car rides, as well as carnival games, all located near the tall pagoda. You have to pay per ride but with the kids begging us to let them into the bouncy castles, we soon sent them bouncing on their way.
Once their excess energy had been burnt off, it was time to light up the lanterns and make our way around the Garden to look at the lantern displays.
It took us a bit of time to figure out which fairy tales some of the displays were from but thankfully, there was a signboard in front of each display describing each of them. It soon became a fun game of "Try to Guess" what each display was. Surprisingly, the kids seemed to be better at the game than the adults!
Story continues below...
---
---
Story continues...
Here are some of the displays. See if you can tell which fairy tales they represent.
By the end of the evening, we enjoyed the time out with family and friends. The kids had a blast running through the Gardens and playing with their lanterns, even though they gave up trying to keep them lit after a while.
Entry into the Garden is ticketed during the Lantern Festival. At $12 per adult and $8 per child, entry isn't exactly cheap, especially when you could be viewing lanterns along the Singapore River for free. Then again, the Chinese Garden beats Clarke Quay as a setting for kids to play with lanterns.
While the lantern displays may never find their way into Singapore's future National Art Gallery, there was a certain charm to them, and they seem right at home in the Chinese Garden. Furthermore, it was great excuse, at least once a year, to walk around the Chinese Garden on a Little Night Out.
Click here to check out the other Mid-Autumn Festival celebrations and festivities at Clarke Quay, Chinatown, the Esplanade and join in the Largest Display of Floating Lanterns, and read all about where you can buy the different types of lanterns here in Singapore.
With over 30 centres in Singapore, MindChamps PreSchool offers premium early childhood education programmes developed by international experts as well as education specialists who...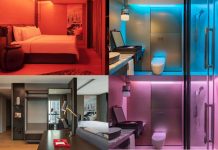 Lighting that adapts to a guest's body rhythm, a multisensorial Experience Shower and an in-room wellness wall. These are some of the features at...
FEATURED LISTINGS