There is much to do this long (at least for kids) Children's Day weekend. Whether you want to head out for some outdoor adventures or relax indoors, here are some ideas of the activities to keep the kids occupied this weekend.
Catch a Show
Thomas and the Hidden Treasure
Till 7 Oct (Sun)
Join Thomas and his friends on the island of Sodor in this live show where they go on an adventure and seek long lost treasure.
The Snail and the Whale
Till 7 Oct (Sun)
Go on amazing journey with a snail as she hitches a lift on the tail of a huge humpback whale and heads off to see the world.

Tango: Puppets at Play
Till 7 Oct (Sun)
See the puppets in new light as daily objects get transformed into whimsical creatures.

Esplanade's Octoburst!
5 to 7 Oct (Fri to Sun)
For exciting arts activities, head on down to the Esplanade where the Octoburst! Children's Weekend Festival is taking place. There will be free performances by kids, workshops and ticketed performances. For the full programme, download the Octoburst! guide here.
Animal Fun
Singapore Zoo: Dr SnooZe is Back!
5 to 7 Oct (Fri to Sun)
Get ready for a Wild Children's Day. Catch Dr SnooZe at the Singapore Zoo's Rainforest Kidzworld Amphitheatre as he meets Singapore's native animals.
Kid's Kampong Children's Day Special
5 to 7 Oct (Fri to Sun)
Go back to the old days at Pasir Ris Kid's Kampong where there are pet shows, longkang fishing and exciting games planned for the Children's Day weekend.
Indoor Play
Story continues below...
---

---
Story continues...
Happy Willow's Children's Day Special
5 Oct (Fri)
Take part in a Children's Day Sports Day at Happy Willow. Kids can compete in an obstacle race and take part in story and craft sessions.
Peek-A-Boo's A Children's Day Special
5 Oct (Fri)
Peek-A-Boo is holding their Children's Day party with games, prizes, facing painting and goodie bags.
eXplorerkid @ AMK Hub
6 Oct (Sat)
Dress up a bear and bake M&M Funny-Face cookies this weekend at eXplorerkid @ AMK Hub's Children's Day Special.
Hit the Shops
Causeway Point
5 to 7 Oct (Fri to Sun)
Visit the MediaCorp Kids Learn & Play area in the Main Atrium. On 6 & 7 Oct, meet Ollie, the Okto Mascot at 11.30am and 1.45pm and also look out for the roving balloonist at 4pm and 6pm.
Compass Point
5 to 7 Oct (Fri to Sun)
Go on an adventure indoors with the Forest Adventure Mobile course which will be at Compass Point this Children's Day weekend. Also find out how you can sponsor a child with WorldVision.
With a Heart…
'LOVE IS LOUD' Children's Day Fair
6 Oct (Sat), 11am to 5pm 
Organised by Blessings in a Bag, there will be carnival games, candy, bouncy castle and balloons at this free carnival. Members of the public are encouraged to drop off donations-in-kind in the form of school supplies such as pencil cases, school bags, crayons, etc.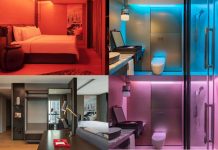 Lighting that adapts to a guest's body rhythm, a multisensorial Experience Shower and an in-room wellness wall. These are some of the features at...
During the Year-end School Holidays 2018, come face-to-face with dragons at Singapore Zoo from 17 November to 31 December 2018. Dragons at Singapore Zoo Get to...

FEATURED LISTINGS