The Night Festival is back!
Over the weekends of 24 and 25 August 2012 (Friday and Saturday), and 31 August and 1 September 2012 (Friday and Saturday), the Bras Basah area will take on a carnival-like atmosphere with late night openings and special events.
Little Day Out takes a look at 5 excuses for young ones to stay awake and out over those weekends.
Night Lights 2012
The Singapore Art Museum (SAM) and the School of the Arts (SOTA) will display light installations that promises to dazzle visitors. Catch "Children's Dreams" at SOTA, where choreographed lighting sequences and music scores brings to life children's fairytales. A selection of artworks from the recent Art Garden 2012 will also be on display at SAM. 7.30 pm to 2.00 am at SAM and SOTA.
Circus Swingapore
Catch the acrobatic routines of the performers from Circus Swingapore. The Circus Kids will be performing at 7.30 pm, 8.30 pm & 9.30 pm on 24 & 25 August, and Circus Swingapore Performers at the same times on 31 August & 1 September. At the National Museum of Singapore, The Platform.
Circus Swingapore
Scaling the Dome
Story continues below...
---
---
Story continues...
See three-dimensional artwork by street artist, Joe Hill. His visual creations will leave you amazed and bemused, and force you to take a second look to make sure the ground has not fallen away from beneath your feet. 24 August to 1 September at The Rotunda, National Museum of Singapore. 
Joe Hill's 3D Art
Shadow Puppet Craft Making
Try your hand at making a simple shadow puppet and put up your very own puppet show. You can also catch the "shadow puppet performance, "One Fine Day", which uses shadow puppets to peek into the lives of families in an HDB block. Puppet making from 8.00 pm to 10.00 pm, 24 & 25 August at the National Museum of Singapore's Glass Atrium. "One Fine Day" will be performed at 8.00 pm, 9.00 pm, 9.30 pm and 10.00 pm on 24 & 25 August as well. 
Life's a Stage at the Peranakan Museum
Pop by the Peranakan Museum on 31 August and 1 September to view dancing mimes, and the percussive beats of live performers. There will also be a glow-in-the-dark room, glitter tattoos and a chance to create your own masks. 7.00 pm to 11.00 pm on 31 August & 1 September.
Other things to look out for at the Night Festival include a Nestlé 1930s Street Stall with Kit Kat treats and old-time games, as well as street performers roving the Festival grounds. Visit http://www.nhb.gov.sg/brasbasahbugis/nightfestival/ for more details.
There are plenty of festive events and activities taking place in Singapore as we approach the Year of the Pig. For those looking for things to...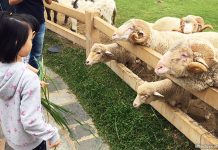 Sprinkled with quaint Italian-inspired villages, wineries with vineyards and flower fields against a mountainous backdrop, the region of Khao Yai near Bangkok, Thailand, offers...
FEATURED LISTINGS