Encounter the animals at the Singapore Zoo. With about 315 animal species, the Singapore Zoo is a sure-hit with kids. Press noses with pygmy hippos, wave hello to the orang utans and roar with the lions. There are different experiences to be had at the zoo and it even has its own children's play area too.
Useful Information
Address:
80 Mandai Lake Rd, Singapore 729826
Contact:
+65 6269 3411
Visit Website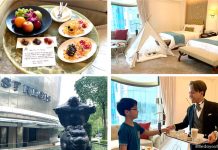 Right from the moment we arrived at The St. Regis Singapore, we were transported to a realm of old-world charm and graceful elegance. Beautiful...
With the gloom of the COVID-19 news, Mr Brown, Singapore's Blogfather, and Mr Benjamin "Miyagi" Lee have brought some levity to the situation with...
FEATURED LISTINGS