Journey into the rainforest at night and encounter animals in their natural habitat at the world's first wildlife night park. Go on a tram ride, watch animal shows and explore jungle trails at this popular attraction.
Useful Information
Address:
80 Mandai Lake Rd, Singapore 729826
Contact:
+65 6269 3411
Visit Website
Schools and Institutes of Higher Learning will implement full home-based learning from Wednesday, 8 April 2020, onwards. In addition, preschools and student care centres...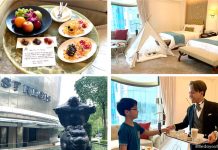 Right from the moment we arrived at The St. Regis Singapore, we were transported to a realm of old-world charm and graceful elegance. Beautiful...
FEATURED LISTINGS