The Lee Kong Chian Natural History Museum provides a look into the natural world. Here, visitors can view the three gigantic sauropod dinosaurs fossils, along with animal specimens from across the world.
Useful Information
Address:
2 Conservatory Dr, 117377
Contact: +65 6601 3333
Visit Website
Activity Sheets
Complete your visit by buying Little Day Out's Lee Kong Chian Natural History Museum Activity Sheets!
10, 9, 8,… 3, 2, 1! Hands in the air! Experience the exhilaration of a fun cooking competition – together as a family – at...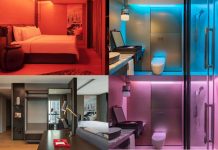 Lighting that adapts to a guest's body rhythm, a multisensorial Experience Shower and an in-room wellness wall. These are some of the features at...

FEATURED LISTINGS