The Hindhede Nature Park and Quarry is tucked away in a quiet corner of Bukit Timah Nature Reserve, a short walk from the main Bukit Timah Hill car park. With various children's playgrounds, it is perfect for a short adventure.
Useful Information
Address:
Hindhede Dr, Singapore 589318
Contact: +65 1800 471 7300
Visit Website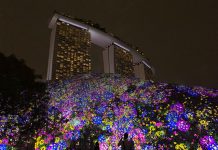 Future Together at Gardens by the Bay, a digital art exhibition, caps off the Singapore Bicentennial commemorations with interactive installations that encapsulate the hope...
Not just another light show, Magical Shores at Siloso, Sentosa is Singapore's first beach light show. Now "screening" on the sand, it is a...
FEATURED LISTINGS