At this restored coastal fort, visitors can view armaments from World War Two, learn about a soldier's life and wander through old fortifications and underground bunkers. Guided tours are available and there is also a waxwork surrender chamber museum is also housed here.
10, 9, 8,… 3, 2, 1! Hands in the air! Experience the exhilaration of a fun cooking competition – together as a family – at...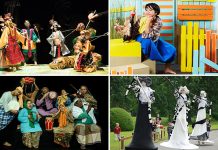 Arts in Your Neighbourhood (AYN) - an initiative by the National Arts Council (NAC) - returns for its 11th edition this November with close...

FEATURED LISTINGS