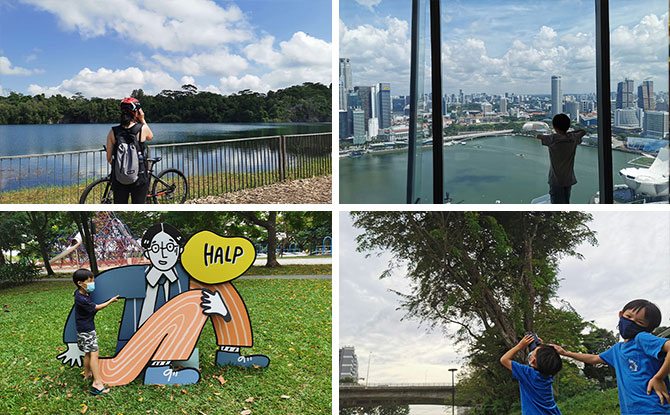 No HBL? And there's NO school?
While it isn't exactly the school holidays because some students (sorry, P5s!) and teachers have to mark the PSLE examination papers, children in other levels get to let their hair down! Parents, who like me, might be wondering what they can do with their children?
Now then PSLE is over and there are no examinations for the Primary 3 and 4 levels, less time can be spent in books.
Fret not, we have a list of suggestions for you with both indoor and outdoor options this PSLE Marking Week 2021. Thirteen ideas – that can be easily done in a week, let's go!
13 Things To Do for PSLE Marking Days 2021 this October
1. Check out a New Park
For some fresh air and expend some energy, how about checking out some new parks?
We suggest heading to Gombak Park! It has a Butterfly Garden, Dog Run as well as a restaurant Whisk & Paddle. Apart from the West, we like this quaint spot near town – Camp Road's Nature playgarden which has log mazes, swings and bee hotels.
You can also check out our list of the best parks in Singapore for families.
---
2. Go on the Luge (Additional Ride for PSLE Students!)
Head to the Luge and try the exhilarating ride! PSLE students can even get a free additional ride.
---
3. Embark on a Wow! Wild Wetlands Walk with Little Day Out
Have you ever seen migratory birds, crocodiles, bats, monitor lizards aplenty? Here's your chance!
End the PSLE Marking school break on a high with a family outing to Sungei Buloh Wetlands Reserve. Our guide will be telling you all about the creatures, plus take part in a quiz and go on a wildlife hunt!
Register here.
---
4. Explore a New Playground
If your child is a fan of robots and Transformers, choose a unique robot-themed playground at Yishun st 61. It is near a coffeeshop if you want to grab a quick bite too. Timbre+ Eastside has an eatery as well as playground located at Singapore Expo. Children would love to climb up the treehouse which reaches towards the skylight.
For a city option, visit the Kaleidoscope play spot at the Esplanade rooftop. It is located adjacent to Pip's PLAYbox at the Esplanade rooftop. Though small, it has an interesting walk-in kaleidoscope.
Slurping Good!: Singapore's First Instant Noodle-Themed Playground Experience
---
5. Read Some Books
"The more you read, the more you will know. The more you learn, the more places you'll go." Dr Seuss.
Reading is the best way to explore and learn. We reviewed The Malay Annals recently, this could be an engaging read for your little ones to learn more about our heritage and culture. We also love the series of Wild Singapore comics all about Singapore's biodiversity presented in fun comics.
---
6. Birdwatching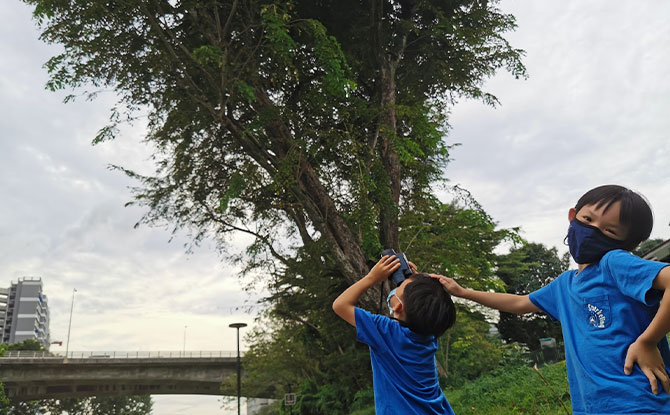 It's Migratory Bird Season and the best time of the year to watch birds – raptors, shorebirds, warblers etc. Check this link out on where to go and what to look out for. It is best to be armed with a good pair of binoculars so you can identify the birds properly!
---
7. Try Waterbiking
Heard of waterbiking? Or cycling on water?
Now you can try it at Pasir Ris. Water Bike SG has rental services and even gives users options to purchase the water bikes. More details here.
---
8. Go on a Family Staycation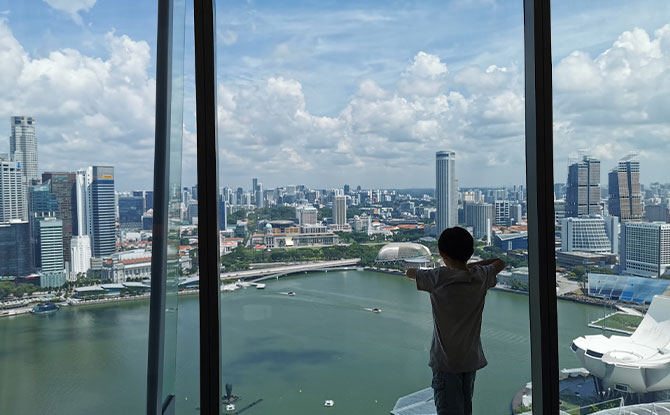 Looking for a family staycation spot? Read our review on Marina Bay Sands here and check out other deals on Klook here. Read our other reviews on family staycations here. Must-haves include bathtubs, a sizeable pool and kid-friendly room configurations!
---
9. Cycle at Pulau Ubin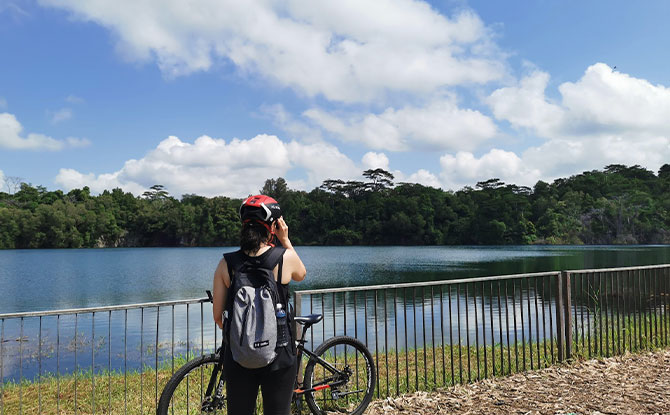 Head out of the city to rustic Pulau Ubin! The best and fastest way to get around the island is on two wheels. Get more information on bicycle rentals, cycling routes and recommended spots. Don't forget your helmets and safety gear!
---
10. Escape at an Escape Room: Amazing Chambers' Promo
Want to try an Escape room as a family? There are plenty of options available and even self-guided trails. We tried Amazing Chambers as a family and you can take full advantage of its ongoing promotion.
---
11. Activities and Projects
Prefer to stay in? No problem. Try these 5 projects! Keep those hands busy for an engaging, screen-free activity.
---
12. Go in Search of the Salaryman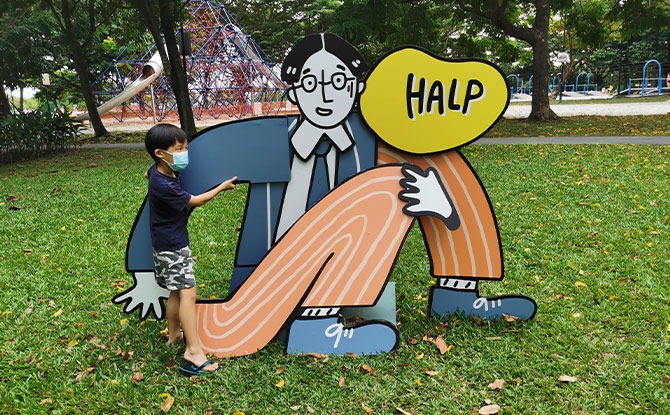 If just heading to the park sounds like a bore, go in search of the Salaryman! I thought this was a cool activity combining the prowess of technology and clocking in steps for the day.
---
13. Virtual Realms Exhibition at Artscience
For an indoor activity, check out the Virtual Realms exhibition at Artscience museum. Learn how game developers and artists conceptualise and design games through collaboration. There are plenty of interactive rooms for participants to collaborate, at a safe distance.
---
Have a Safe October School Holidays
Make the best of the school holidays in October! Whichever activity you choose, stay safe and keep to two per group. Have a fruitful one!