Upcoming Events
Events List Navigation
Hullabaloo at The Artground is an explosion of colours, patterns and shapes which beckon children's exploration and discovery. This whimsical landscape invites children to crawl into tiny spaces to uncover quiet hidden realms and run around structures of brilliant hues. Taking cues from the natural environment, Hullabaloo encourages children to see the space from different perspectives, imagine a world of magic, and immerse themselves in the kind of fun that beats at the heart of creativity. Find out more. RELATED:…
Find out more »
+ Export Events
Search by:
All | Workshops | Holiday Programmes | Exhibitions | Theatre | Nature | Outings
Taking place on the last weekend of every month, Arts Weekend Civic District is organised by the National Arts Council and combines various arts programmes that are held in this culturally rich area.
Featuring a line up of familiar nursery rhyme characters, Nursery Crimes will delight and entertain adventurous minds.
What's the best thing to do on the first day of the November school holiday? Have fun! Join us on our Little Day Outing to Bishan-Ang...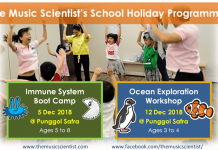 The Music Scientist offers fun and educational science and music workshops for children aged 3 to 8 years old.
Through narration in English, dance and drama, Ganga – The Heavenly Princess is about our precious oceans and rivers, and why we shouldn't take them for granted.
Be spooked at SAFRA Tampines with our back-to-back movie marathon that caters to both the family and the strong at heart!
School holidays are here, what better time to let your kids try out the different genres of dances at our one-day dance camp, or simply have a good time grooving to their favourite tunes with our workshops themed on hit animated movies?
SWF3 is a special track at the Singapore Writers Festival comprising of programmes for children as young as two years old to enjoy with their families. These include storytelling, workshops and talks.
Empower your child and help them achieve their full potential at MindChamps' workshops this year-end 2018 school holidays!
Discovery Camps runs across the local and international summer school holidays. We start our winter season on 19 Nov until 4 Jan!
The Night Before Christmas is about Eddie the mouse's adventure and also about friendship, sharing and the real spirit of Christmas. Full of merry touches with plenty of live music and songs, it's a perfect introduction to live theatre for young children.
MindChamps PreSchool offers learning and enrichment programmes for children from 18 months to 6 years old. Join in the MindChamps Preschool and Chinese Preschool Welcome Day to find out more about the curriculum!
Our holiday programmes provide enriching and exciting experiences for children to explore and investigate a wide range of STEM concepts. Learning comes alive with lots of hands-on activities, experiments and crafts.