Upcoming Events
Events List Navigation
Gallery Children's Biennale 2019: Embracing Wonder at National Gallery Singapore spreads the message of art as a way to discover and explore new worlds. This second edition of Gallery Children's Biennale features 9 artworks by 10 Singaporean and Southeast Asian artists. It is a hands-on exhibition that invites children and adults alike to embrace the wonder of the world around us. Gallery Children's Biennale 2019: Embracing Wonder Highlights The Oort Cloud and the Blue Mountain Image: National Gallery Singapore Created…
Find out more »
+ Export Events
Search by:
All | Workshops | Holiday Programmes | Exhibitions | Theatre | Nature | Outings | Open Houses
Dive into your imagination and immerse yourselves in the classic tale of Goldilocks and the Three Bears through an interactive storytelling and puppetry experience for ages 3 to 8 at Playeum, Children's Centre for Creativity on 7 and 8 December!
This original new musical by SRT's The Little Company reimagines the classic tale The Gingerbread Man into an uplifting story about the value of teamwork and friendship.
From 18 November to 20 December 2019, our wide variety of camps will focus on a common theme to encourage kids ranging from 3 -12 years old to achieve zero waste, learn the basics of sustainability and love the environment.
Come explore I-Opener, Playeum's sixth hands-on exhibition athe Children's Centre for Creativity. Designed for children aged 1-12, I-Opener empowers all families to discover their creative potential and explore their senses through artful play.
Visit Pororo Park Singapore and celebrate the festive season in a fun-filled winter wonderland with Pororo & Friends!
This season, Melissa launches its collaboration with Disney's most-anticipated movie, Frozen 2!
Adventure Camps are designed for kids to simply have some fun during the school holidays – free from the overly-structured, overly-scheduled routines of home and school. At camp, kids can relax, laugh and learn at the same time.
AYN comprises a series of interactive arts programmes performed and facilitated by established artists and arts groups at various locations across the island. This November, we travel to the north-east of Singapore to rediscover the neighbourhood of Punggol, with arts activities happening from 7 to 24 November 2019.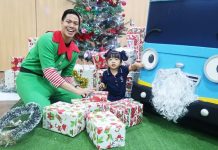 Visit Tayo Station at Downtown East and enjoy an adventure-filled Christmas with Tayo & Friends!
Play and feast with your family this festive season! Immerse yourself in a bubble party and join us for a day of fun-filled activities.
Sakamoto Maths is a powerful, logical yet easy problem sum solving technique for primary school kids. Try a trial lesson in Nov-Dec 2019 school holiday time! Don't miss this opportunity!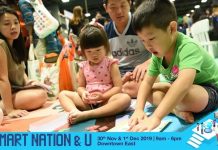 A family weekend of immersive tech exploration and endless digital adventures awaits at Downtown East. Attend FREE talks, experience Augmented Reality with your children at the Demo Play Zone, redeem free tote bag and stand to win amazing prizes!
Hop on our shuttle bus for a Christmas market at Marina at Keppel Bay! Meet and greet our Santarina as she stops by our Marina to give you a little gift. Dine in during this period to enjoy dining discounts and vouchers.
Come ring in the festive season with fun programmes for the whole family at Sembawang Shopping Centre!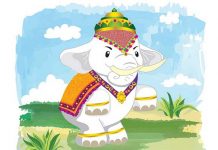 Join the faithful Airavata as he brings Lord Indra across heaven and earth, and find out if he prevails at mammoth tasks.
Enjoy a fabulous Christmas at Aperia where exciting events are in store for the whole family!
Discovery Camps offers a wide choice of fun & academic holiday camps for kids ages 3 to 14 years! Enhance your child's self-discovery this winter holidays.
SITEX 2019 is back! Singapore's only consumer IT exhibition will be held from 28 November to 1 December 2019 at Singapore EXPO, Halls 5 and 6.
A charming yuletide adventure awaits at Shangri-La Hotel, Singapore, as they present a snowy 'A North Pole Wonderland' Christmas. Share joyful moments with loved ones as you delve into a world of magic with mischievous polar bear cubs and twinkling arctic stars amidst the whimsical and glistening winter backdrop of the North Pole.
Encapsulating all of the magic of Christmas, The Super Santa Christmas Show is the ultimate Christmas experience for your young family.
Get started on game design, app creation and programming, or even artificial intelligence with the qualified and experienced team of educators at Coding Lab!
Explore over 60 interactive tech booths and harness the power of technology with over 20 different tech workshops, covering topics such as: coding, drones flying, money saving apps, and more! Recommended for learners aged 50 and above.
Join Kevin, Stuart and Bob at a party to celebrate Christmas the Minions way! Create Christmas cards with a card stamping machine, slide into a ball pit of "mischief", go banana ice-fishing and join craft workshops.
End the year on a sweet note as KidZania Singapore ushers in the fun festivities at Christmas Kandy Land! Swing by Santa's Candy House to catch a glimpse of Santa and his elves, listen to enchanting Christmas Tales, and join in the Snowfall Party.
Gallery Children's Biennale 2019: Embracing Wonder at National Gallery Singapore spreads the message of art as a way to discover and explore new worlds. This...
The Grand Camp is back for the end of year holidays! Looking for an interactive and engaging activity for your child this holiday period? Sign up for The Grandstand's holiday enrichment camp for children between 3 - 9 years old!