Science Centre Singapore is a fun place for kids to explore and learn science through practical hands-on exhibits. The Annex building also plays host to permanent and changing exhibits throughout the year. Water Works is a water play learning area.
Useful Information
Address:
15 Science Centre Rd, Singapore 609081
Contact:
+65 6425 2500
Visit Website
Singapore's shores are teeming with wildlife we wouldn't usually notice. Getting to an intertidal zone during periods of low tide is the best way...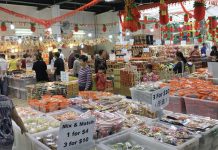 Want to know where to get superb CNY bargains? We uncover where the aunties shop for their festive goodies! Don't let the distance deter...
FEATURED LISTINGS